All Events and Quizzes MUST be booked for in advance using the Booking Form Link that is available at each event and/or Quiz Below.
Guests are welcome to attend all of our events.

GASC bring you Carla Stone as TABOO
Thursday October 20th
VENUE Brisa Del Mar, on Calle Mar 32, 46712, Piles - 7.30 for 8.00

We are delighted to announce the return of the extremely talented CARLA STONE, some of you will remember the fabulous night she gave us last year with Sunflower Valley. Well she's back with her new all female duet performing all our favourite hits from the 70's right through to today. And especially for us the girls are doing requests on the night, that's how extremely versatile and talented they truly are.
This promises to be a fabulous party night for everyone to enjoy. See you there!
27 Euros Members - 30 Euros Guests

OCTOBER BOOKING FORM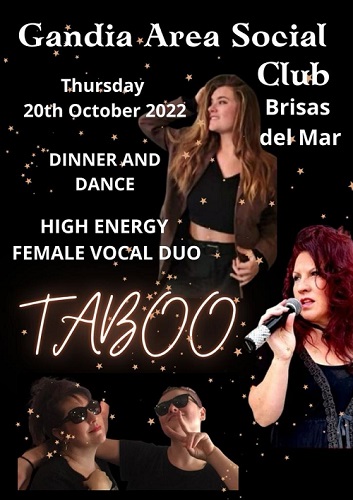 OCTOBER 31ST 2022
COACH TRIP TO CONCENTAINA FOR THE ALL SAINTS FAIR
First held in 1346 as a regional agricultural and cattle market. Today it has become established as a major showcase for traditional farming activities, crafts, farm machinery and means of automation. In addition it offers a wide range of cultural attractions, including a book fair, exhibitions, choral contests, riding and dressage displays, concerts, crafts workshops… There is plenty to see do and taste at this fabulous fair, absolutely something for everyone and a chance to experience more of Spain's hidden depths - we will leave Polivalent Oliva at 09:15 and leaving Concentaina at 15:30 giving us 5 hours to wander round, enjoy a lunch at one of the many food and drink providers and maybe pick up a few Christmas Goodies

15 Euros Members - 18 Euros Guests

BOOKINGS CLOSED - FULL
GASC present the Fabulous extravaganza that is "THE BLUES BROTHERS"
Thursday November 17th
VENUE Brisa Del Mar, on Calle Mar 32, 46712, Piles - 7.30 for 8.00

Finally, after three long years we are thrilled to bring the legend that is the BLUES BROTHERS EXPERIENCE back to GASC. Direct from Benidorm "it's not just a SHOW, it's a PARTY" and we are all invited! Those of you who may have seen this extravaganza before will definitely want to go again, and for those who have not had the pleasure, then you are surely in for a treat. We are bringing the full show to Brisas del Mar. Get ready for an evening of music, songs, dance, humour, participation, energy, fun, laughter and so much more. Expect the unexpected. Infamous throughout the Costa Blanca and beyond, this is an event not to be missed.
27 Euros Members - 30 Euros Guests

BOOKINGS WILL OPEN SHORTLY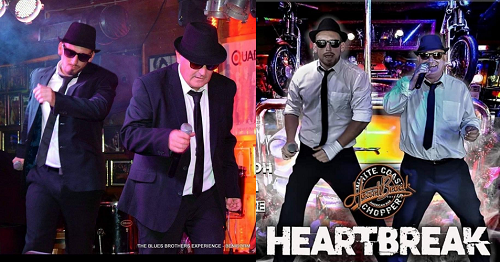 CHRISTMAS PARTY NIGHT WITH ABBA
December 15TH
VENUE Brisa Del Mar, on Calle Mar 32, 46712, Piles - 7.30 for 8.00

Full details and Booking form available Shortly



OVERNIGHT TRIP TO TOLEDO
DATES
16, 17, 18 and 19th March 2023 (three nights) 295 pp

Synagogues, mosques and churches stand together in Toledo's historic quarter, a testament to the medieval Spanish city's diverse history. The four towers of The Alcazar, a fortress built in 1085, dominate the skyline. Toledo and its surrounding countryside inspired El Greco, and his paintings are on display in many places around the city, including the museum that bears his name. There will be plenty to see and do on this fabulous sightseeing extravaganza!
The Travel Agency (Viajes El Corte Ingles) require 100 euro pp deposit by end of September and full payment by February 20th 2023

Price includes:-
1. Assistance by Viajes El Corte Inglés staff at the departure of the group
2. Coach from Gandía to Toledo and Toledo to Gandía, the Coach will also be available through the trip
3. Staying at the Hotel Beatriz Toledo Auditorium 4* in double rooms
4. Half Board (with water and wine included)
5. Travel Insurance (medical assistance, cancellation fees for justified reasons)

To make the trip viable we need a minimum of 30 people (15 rooms) - so in the first instance if you would be interested, i'd be really grateful if you would complete the form below (this will register your interest and see if people prefer the two or three night option. If we do get enough people interested we will arrange a couple of excursions whilst there as well.
TOLEDO BOOKING FORM
What other activities would you like ?
NOTE
The Committee would like to remind members of the dress code for the Thursday evening dinners. Smart Casual Wear, no Shorts, Vests or T-shirts. However in the months of June, July and August smart shorts will be acceptable.
Also: all outside events and activities are undertaken at your own risk.
Please Contact Us here if you would any further information about the Club and/or its events and Quizzes